Elements of Element78
Element78 partners with organizations to catalyze change. Well-crafted 'people' interventions can make the change graceful, be it an audacious goal, or a challenge to improve efficiency. The Element78 team co-creates solutions through its coaching, training & consulting offerings.
Our solutions are derived from a detailed study of your specific scenario and a deep understanding of a variety of methods. We work towards empowering your talent to reach their full potential and deliver high-impact, sustainable results.The Team at Element78 is carefully selected based on organizational values.
A dedicated back-end team helps us create engagement on multiple projects, giving the participants an individualized experience. We associate with professionals who are passionate about their work and believe in collective wisdom and sharing.The Element78 team upholds the Indian philosophy of achieving 'Swarth' with 'Paramarth' and our team members happily contribute their skills towards social causes as well.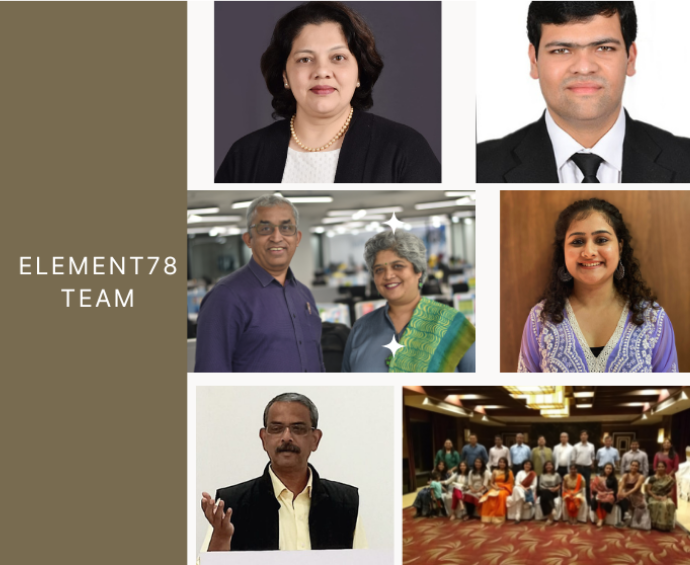 Our Philosophy
"Touching Lives, Changing Stories" being our motto, we strive to impact as many people as possible towards positive change.
We believe that every change is an opportunity for transformation, which begins with a change in mindset of individuals. Mindset change needs to be facilitated keeping in mind that, the individuals involved, bring in their own knowledge and experience about themselves and their business and it is our responsibility to make it flow.The presence of Element78 in an organizational change should facilitate the desired business goal to be achieved in a graceful and efficient manner

Meet Our Founders
Manik Damle
Managing Partner
Valued for her key strength of "Connectedness" Manik Damle is the co-founder of Element 78. She is an Engineer, a Certified ICF coach (RCS) certified OD Practitioner (ISABS). Manik has facilitated change for groups and individuals across socio-economic sectors and is known for delivering complex concepts through creative methods, simple anecdotes and exercises. At Element78, she nurtures the training design and consulting team.
Rahul Chaudhari
Managing Partner
With 3-decades of experience in consulting, industrial sales and trainer development, Rahul is recognised for his ability to drive tangible talent transformation. He specialises in Leadership development and transforming Sales teams to be more effective. A facilitator who is remembered as affectionate and approachable, Rahul believes in continuous self development. Further to his Engineering (VJTI) and MBA (SPJIMR), he has completed several courses like Organisation Development (ISABS), Storytelling, MDP in Management Consulting (IIMB) and Design Thinking (DTA, Amsterdam).
Our Story
Since 2010, We have maintained a singular focus to create results through talent development initiatives.
---
Identifying the offering as 'behavioral training' and understanding industry needs with a specific focus on Indian SMEs. We operated out of cafes and rented space.
2010-2013
Working to a business plan and adding names to the client list. We found success with large organizations and international clients as well, participating in some large scale/ long term roll-outs. Professional friends pitched in as co-trainers or consultants, and we moved into a home-style office with a support team.
2013-2015
With a growing base of clients and better understanding of strength areas, distilled and standardized our training offerings through open programs and calendar programs. We created the Element 78 sales, design and delivery processes for behavioral training. Meanwhile, the team pursued academic certifications and self development to strengthen the OD offerings, moving towards more maturity and focus.
2015-2017
We strengthened our digital presence, and focussed on sales and operations thus making a significant jump in revenues, team size and client base. We articulated our vision 'Touching lives, changing stories' by being a boutique team with a personal touch. We clarified our organizational values by analyzing our assignments, successes and failures. By the end of 2019, it had been a phenomenal journey, with a wide variety of projects across cultures and industries.
2017-2019
We made plans to grow and move into a new office and expand our team and offerings, senior professionals joined us. Covid struck and we had to re-look at our resources. We revamped our team and abilities to deliver virtually. While revenues dropped significantly, we continued to touch more lives, especially of client teams that trusted and needed us during this critical phase.
2019-2021
Springing back with gratitude, we designed a lovely new office which a diverse and passionate team would like to work in. Having identified our strength areas for OD interventions and leadership/management training, we decided to explore training areas at the bottom of the workforce pyramid as well. The years to come will see us spend time in proactive initiatives like documenting our interventions and investment in talent and technology.
2021+